January 22, 2018
In review: Savage Dragon #230
Sooo, December gave us two issues of Savage Dragon which is great for us fans. But — it's hard to keep up with Erik's schedule so this review is a bit later than usual. Let's dive right in…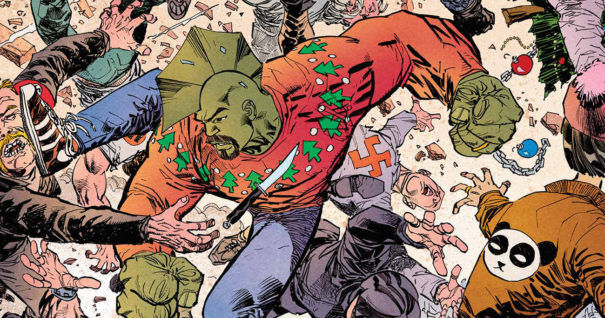 Size matters
If you are keeping up with Erik's work you might know that he likes to experiment. He likes to challenge himself and he's always looking for ways to improve his art and to keep it fresh — for himself and the readers.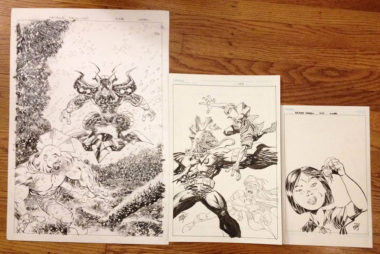 For a while now Erik had been working on twice-up art boards that are considerably larger than the industries standard. Last issue though, he used some artboards that were barely half the size of the standard paper. It helped draw the book quicker — Erik wanted to get it out in time for christmas – and it also made the drawings a bit more cartoony. With Savage Dragon #230 he tries something new…
"With #229 I drew an entire issue quite small. With #230, I'm going freestyle, drawing pages at a random size. Trying to take advantage of the strengths of each option."
Here's a look at all the art boards for Savage Dragon #230. Erik has blurred and retouched the image to avoid spoilers — but you get the idea…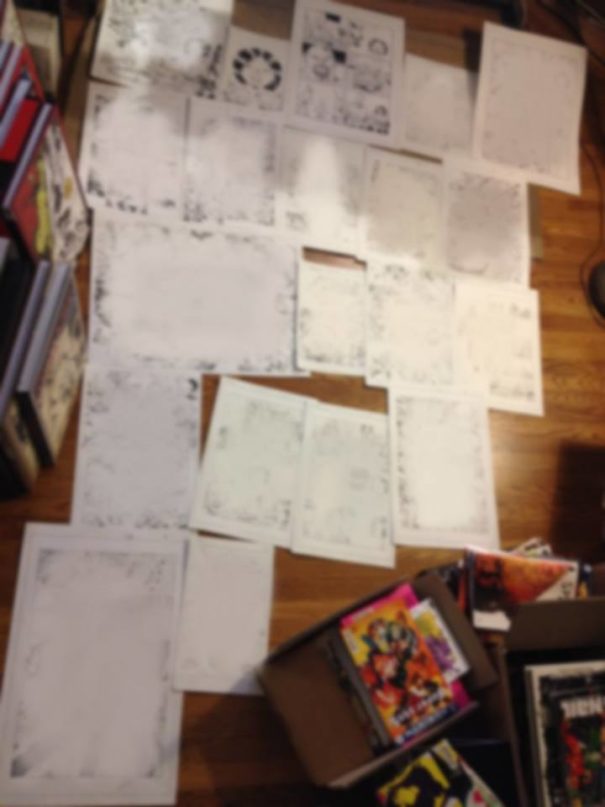 Erik went into detail on the different sizes: "Depicted here, the smallest Image art boards are 7.75 x 11.75. The interior box is 6 11/16 x 10. The other is a twice up page (full bleed is 14.5 x 22, the interior box is 12.5 x 18.75). I also used standard art boards (10.25 x 15 3/8, interior box 8 7/8 x 13.5) and in between 11 3/8 x 17 3/8 interior box 9 13/16 x 15 1/8. Added to that is a double page spread at 22 3/4 x 17 7/16 and a single non-bleed page (10.25 x 15 3/8) which I added a bleed to in Photoshop."
So — most pages are standard-sized or bigger but there are a few of the small boards in the mix. The small boards seem ideal for full page closeups or figures or simple action with limited backgrounds."
Eventually all pages were scanned and re-sized in photoshop so that Chris Eliopoulos didn't have to deal with different font-sizes during lettering. The panels were also given a consistent border thickness.
Goodbye to Chris Eliopoulos
As we have reported before, Savage Dragon #230 is Cris Eliopoulos' last work on the book as letterer. Chris is concentrating on his own writing and cartooning and we wish him all the best in his future endeavours. New letterer will be Ferran Delgado who already had a couple of stints on backstories in the book.
Live Savage Fincast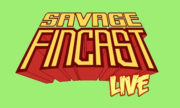 The guys from the Savage Fincast tried something new this month and held a live Podcast on Youtube. The edited recording hasn't been posted yet but you can listen to the live recorded version on their Youtube channel. They have also started to implement games into their show, which actually is pretty funny. So check it out and let them know their hard work is appreciated!
Reviews of Savage Dragon #230
Enjoy
Stef