December 29, 2017
Sinnott Inking Challenge Spotlight on Erik Larsen
Of the 30 contestants 26 sent in their submissions. I've updated the post and the GIF for you guys to compare them. To me they are all winners…
In June 2017 Erik was announced Winner of the 10th annual Inkwell Award in the category "ALL-IN-ONE (pencilling and inking together)".
Part of the 2017 Inkwell Award is the "Sinnott Inking Challenge Spotlight on Erik Larsen" where 30 professionals ink a pencilled page by Erik himself. The first results have been posted online and we want to share these with you. It's quite fascinating to see the different results and it really helps to understand the work of an inker, how important it is and how much of a difference it can make…
Click on the image to see all the single images.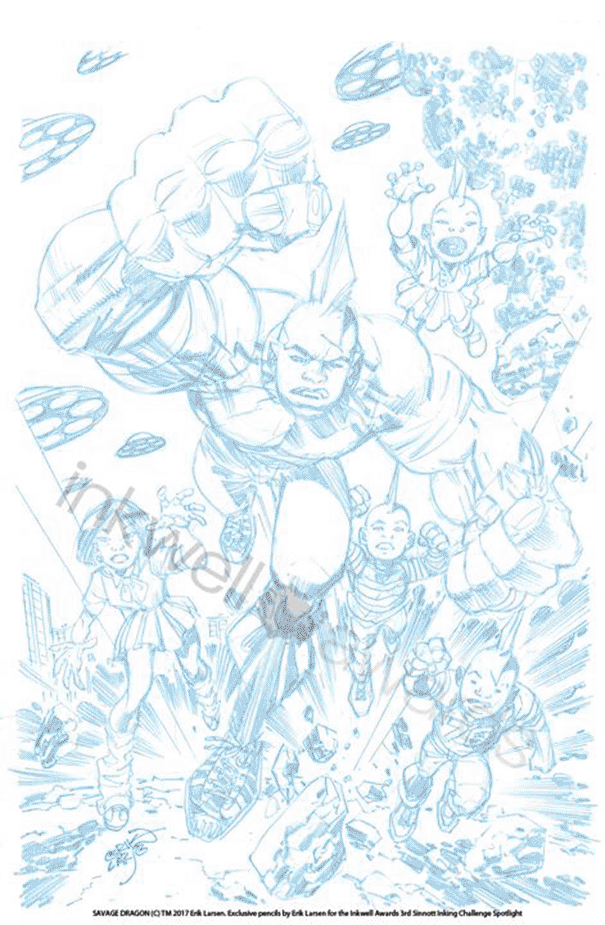 It seems some of the artists have slightly rotated the original artwork for their inks — For better comparison, I have taken the liberty to re-rotate the pages so they all sit firmly above each other and the original pencils.
I'll keep adding the newest entries so keep checking back to see more of the challenge contestants.
Contestants
01 – Andy Smith
02 – Richard Clark
03 – Neil D Vokes
04 – Chris Madd
05 – Lebeau Underwood
06 – Joe Prado
07 – Tom Schloendorn
08 – Dee Fish
09 – Keith Williams
10 – Scott James
11 – Geof Isherwood
12 – Rodney Ramos
13 – Andy Owens
14 – Mark McKenna
15 – Scott Rosema
16 – Keith Champagne
17 – Mark Stegbauer
18 – Richard Bonk
19 – Rudy Nebres
20 – Idan Knafo Kerbis
21 – Rusty Gilligan
22 – Mike Sellers
23 – Kevin Conrad
24 – Don Hillsman
25 – Alex Saviuk
26 – John Floyd