October 2, 2017
First post in a brand new direction!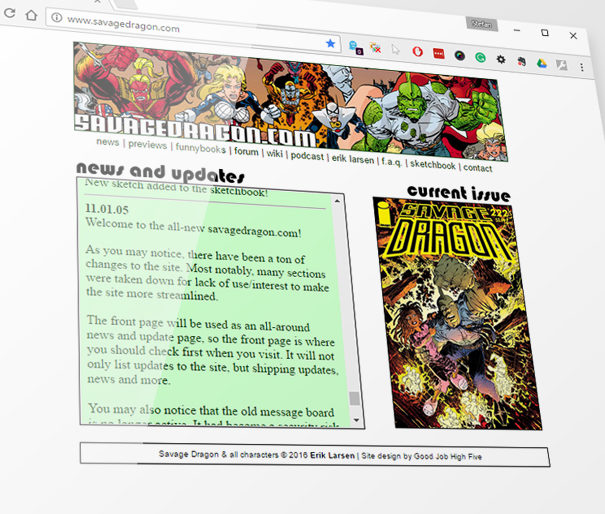 Well, it's come to this: savagedragon.com finally got a redesign. It was long overdue and it took me way too long, but here we are. In with the new, out with the old.
I took over reins as webmaster in early 2016 and had initially planned to just keep things up and running and a little bit more up-to-date. I soon realized though that the old page was a pain to work with. No wonder, the last relaunch happened 12 years ago. The website used ancient HTML, frames, tables and you had to manually save files in different sizes and places to make it work. It wasn't pretty…
Getting started with the savagedragon.com redesign
I checked with Erik if he was OK with a savagedragon.com redesign – his reply was pretty much: "Do with it what you will…"
I talked with Raven Perez, who's running Dragonfan.net and pretty much does what an official Savage Dragon website should have been doing. I took some inspiration from his page and made some layouts. And then nothing…
Life got in the way and things just lay there. It wasn't until earlier this year that I finally sat down and seriously started to work on the page. I'm a graphic designer by trade and I had some pretty good basics in building websites but I had my work cut out for me. Eventually, I made this WordPress theme from scratch. It's responsive, so you should be able to browse the page on your smartphones – I hear smart people do that…
Optimizing the Site
It's still work in progress. Most likely it has a couple of bugs. I already know about a couple of things that need improvement. Let me know if there's anything that doesn't work or if you have any suggestions.
It's still missing some content. I need to put all the crossovers and collections into the comics section and I'm also thinking about implementing the classic variants overview (now that the Savage Dragon forum on the old imageboards is history). Eventually each issue is supposed to have its own page with a short summary and a link to the wiki. As you can see I already have the layout for that but it will take some time to fill in all the content. And I might bring back the sketches collection from the old site. I know Erik has a huge collection on Facebook but I'd love to have that on the official website as well.
For now, I'm glad the savagedragon.com redesign is finally online and it's still in time to celebrate Savage Dragon's 25th anniversary. What better way to say thanks to Erik for 225+ issues of the best superhero comic on the stands.
Stef