July 24, 2020
Savage Dragon #250 on sale — aaaaannd SOLD OUT!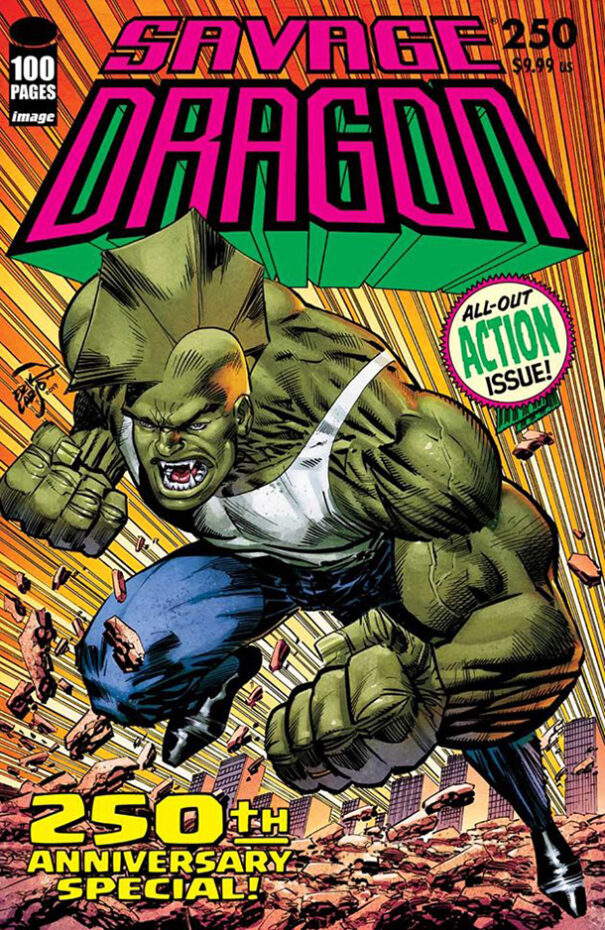 Wednesday of last week, the big 100-pages-anniversary-issue of Savage Dragon #250 went on sale. It comes with 8 different covers — seven of which were officially announced beforehand. Here's a complete list
Cover A – Erik Larsen
Cover B – Frank Cho
Cover C – Rob Liefeld
Cover D – Walter Simonson
Cover E – Skottie Young
Cover F – White sketch cover
Cover G – Erik Larsen pencils / Ryan Ottley inks
Cover H – Green Scorpion Comics exclusive sketch cover
The 7th variant is a Scorpion Comics exclusive green sketch cover that's limited to a (fitting) 250 copies. It retailed for 50$ and sold out faster than you can say "that's green but mean".
Anyways, apparently — as of yesterday — the entire first print run has sold out and there are already talks about a second printing. Erik is considering different ideas for that as he said on Facebook…
The thing with this is I always weigh the options–doing a new cover would take time and it'd be yet another cover that longtime readers would feel obligated to buy and both of those are huge factors. While it's nice to sell a few more copies–I don't feel it's fair to force readers to chip in another $10. If I just run the A cover again, with a different colored logo–there'd be less reason to feel obliged to pick up another copy.
We will keep you up to date on the reprint. Until then make sure you get your copy. Some stores might still have some copies left…